When:
15/07/2023 @ 8:00 am – 5:00 pm
2023-07-15T08:00:00+12:00
2023-07-15T17:00:00+12:00
Where:
Manfeild: Circuit Chris Amon
Rata Street
Feilding 4702
New Zealand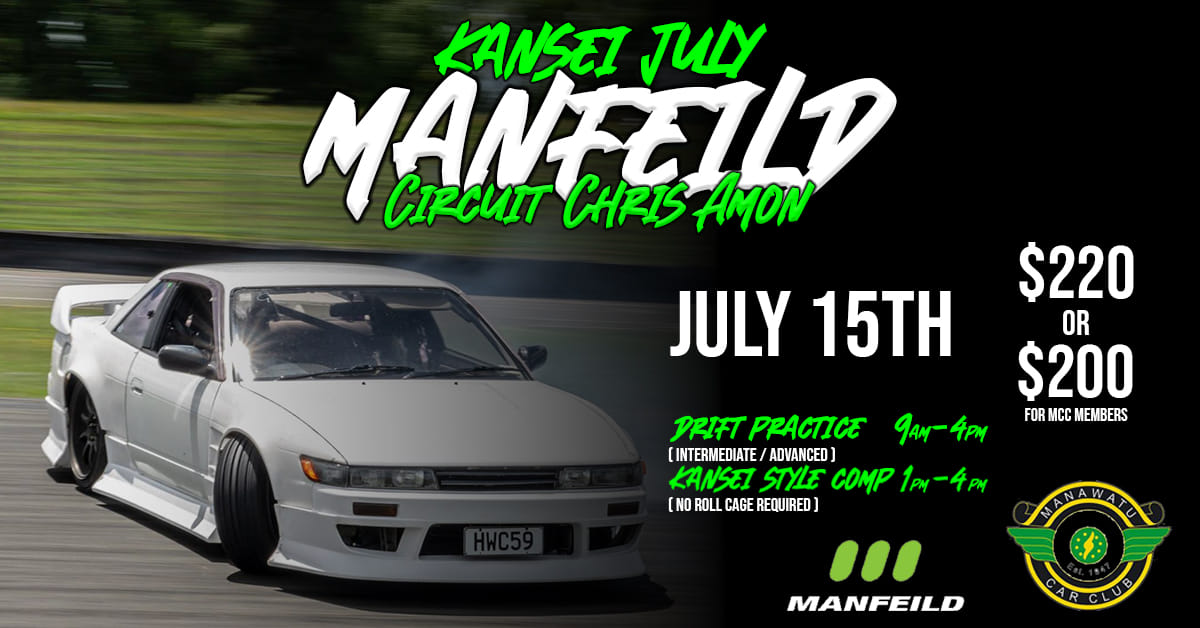 KANSEI JULY SOLO DRIFT COMPETITION
ONLINE ENTRIES HERE
Official Motorsport NZ Permitted Competition under Schedule DR. CLICK HERE FOR DRIFT REGULATIONS
Solo passes through a judged section with three clipping points on Manfeild Circuit Chris Amon. The judges will be assessing style, initiation and line. Full details to follow..
Supplementary Regulations: HERE
MATARIKI DRIFT PRACTICE, intermediate to advanced skill level.
Get in touch if you aren't sure of your skill level to discuss.
We will be drifting the traditional D1 section, through the infield corners.
Tailored for intermediate and advanced drifters.
To join our club click HERE
Scrutineering will be done on the day. Here's some basic guidelines:
SAFETY WEAR
– Helmet
– Overalls (100% cotton fire retardant with under garments or SFI/FIA approved race suit)
– Approved footwear- Race boots or leather
EXTERIOR
– Wheel nuts (ALL)
– Exhaust secure
– No exhausts out the bonnet – exhausts must be vented beyond the mid-point of the vehicles wheelbase.
– Bonnet pins (if not using factory latch)
ENGINE BAY
– NO fluid leaks PLEASE CHECK
– Oil catch can / Overflow (if not factory)
– Battery secure (4x 8mm bolts if not factory,)
– Insulated battery terminals
INTERIOR
– Seats secure (4 x ISO 8.8 high tensile bolts)
– Seatbelts / Harnesses (SFI in date. FIA date plus 5 years)
– Brakes (solid pedal)
– Door cards
– Batteries must be mounted using 4 x M8 bolts and locknuts securing battery to floor (not just bolted through the battery box)
– Non sealed batteries must be in a box and vented
SEALED CABIN/FIREWALL (no protruding holes on engine firewall)
– Fire extinguisher 1kg (CHECK GAUGE) with two metal straps and securely mounted with bolts and washers
– Fuel cell / surge tank*
*IF YES ENSURE FULL REAR FIREWALL IS FITTED
ROLL CAGE
– Roll cages are not required
– If caged, it must be homologated
– Where a roll cage is fitted harnesses must be installed using correct mounting and plates
– Factory seat belts are required where a cage is not fitted