When:
19/01/2020 @ 8:00 am – 5:00 pm
2020-01-19T08:00:00+13:00
2020-01-19T17:00:00+13:00
Where:
Manfeild: Circuit Chris Amon
South St
Feilding 4702
New Zealand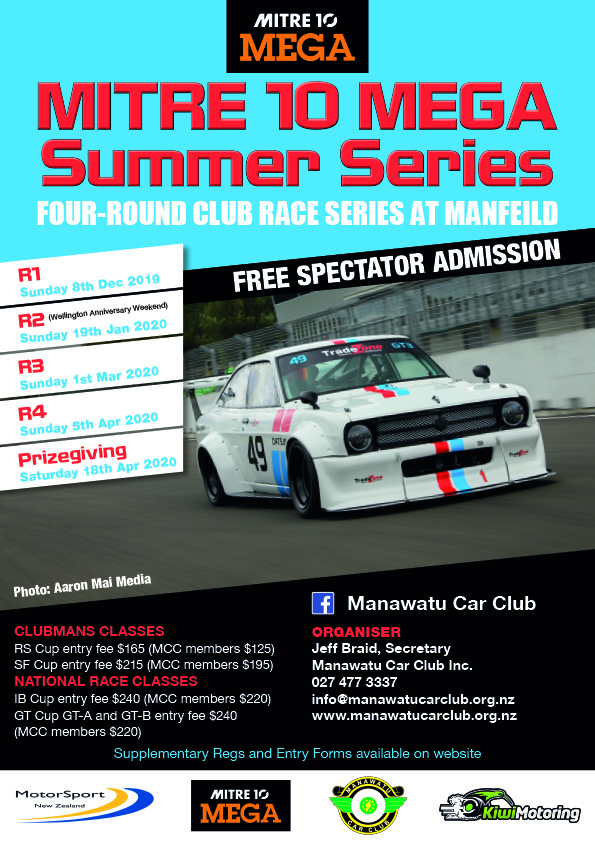 Discount for Manawatu Car Club members.
Full race and class information on our website HERE
Supplementary Regulations HERE
Additional Supplementary Regulations for Russell's Relay Trophy Race to be run at Round 4 HERE 
Read the following Indemnity and Consent HERE.  By entering you acknowledge these conditions.
Download the full series calendar HERE (Oops.. NOTE – prize giving is now Saturday 18th)
To Enter
There are three steps to entering and getting out on the track:
Before race day:  Fill in your entry AND make payment for your entry on our website
On race day:  Attend scrutineering to have your log book stamped (and vehicle scrutineered if due)
On race day:  Attend documentation to show your Documents
1.  Enter online and pay for your entry HERE.  Bring the receipt you receive via email with you on race day for Documentation
2.  Check your log book, you require scrutineering before going to Documentation every third event, or if you car hasn't been used for 6 months.  This is because log books have to be checked off complete at Documentation.
3.  On race day everyone must attend Documentation so the race organisers can sight the following items, have you sign the indemnity and issue you a transponder:
> Log book with scrutineering completed (if due)
> Club membership
> Race licence
> Proof of payment (you can pay on the day but this will cost more and take longer to complete Documentation)